Something New and Something nice.....
With this page I hope to you will find a lighthearted side to the web. As a woman who loves the chat sites I have found very humors side of it. I have also found that the web can be worst then the bar scene in the page of life. I am not saying by any way that all the men I have chatted with were into the cybering. But as a woman I have found that a few are looking to find that out in the great wide space of the cyber world. I guess even at my age there are still things that surprise me in life. And being on the www surely has open my eyes just a little wider and helps me live a stronger in this space age time. It is hard to believe that in just a few short years in are life time how much there is to do and see with out even leaving the comforts of are own homes.
By Lee Seed
Lee Seed's art work was introduce to me a few years back and since then I have had a love affair with the her artistic style and grace she brings with every picture she does.
A New Being Is Around The Corner
My hope is to be updating this page about twice a week. But lets just be serious with how life works shall we. If things get busy in mine it may only be once a week. But on the other hand I could update this every day. Lets just see what happens.
Mary_one@hotmail.com
What else can I say?
But I would love to here from you about things you have found and what is out there. In the site I will be posting fun things to do while you sit and surf the net. I hope you all enjoy it as much as I have done making this.
Just remember in life to love, laugh and have as much fun as you can. He who dies with the most toys and laughter always wins.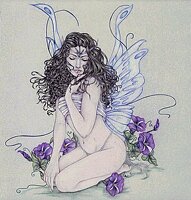 "Peace"
By Lee Seed
Does she not show us the way of life to Love, laught and enchant the world around us. If you would like to see more of Lee Seed's artwork and other works.Please follow the link below.
Lee Seed Artwork